The Don't You Want Me Project - providing hope and support through a first of its kind Rescue Grant
The Don't You Want Me Project documents the lives of queer people and their rescue dogs by creating a visual global platform for them to tell their stories. Finding strength and purpose in the unconditional love given by dogs we watch the project's subjects heal and transform. The project's aim is to highlight what happens when the marginalised receive unconditional love and support. This bond and the subsequent personal growth form the backbone of the Don't You Want Me Project.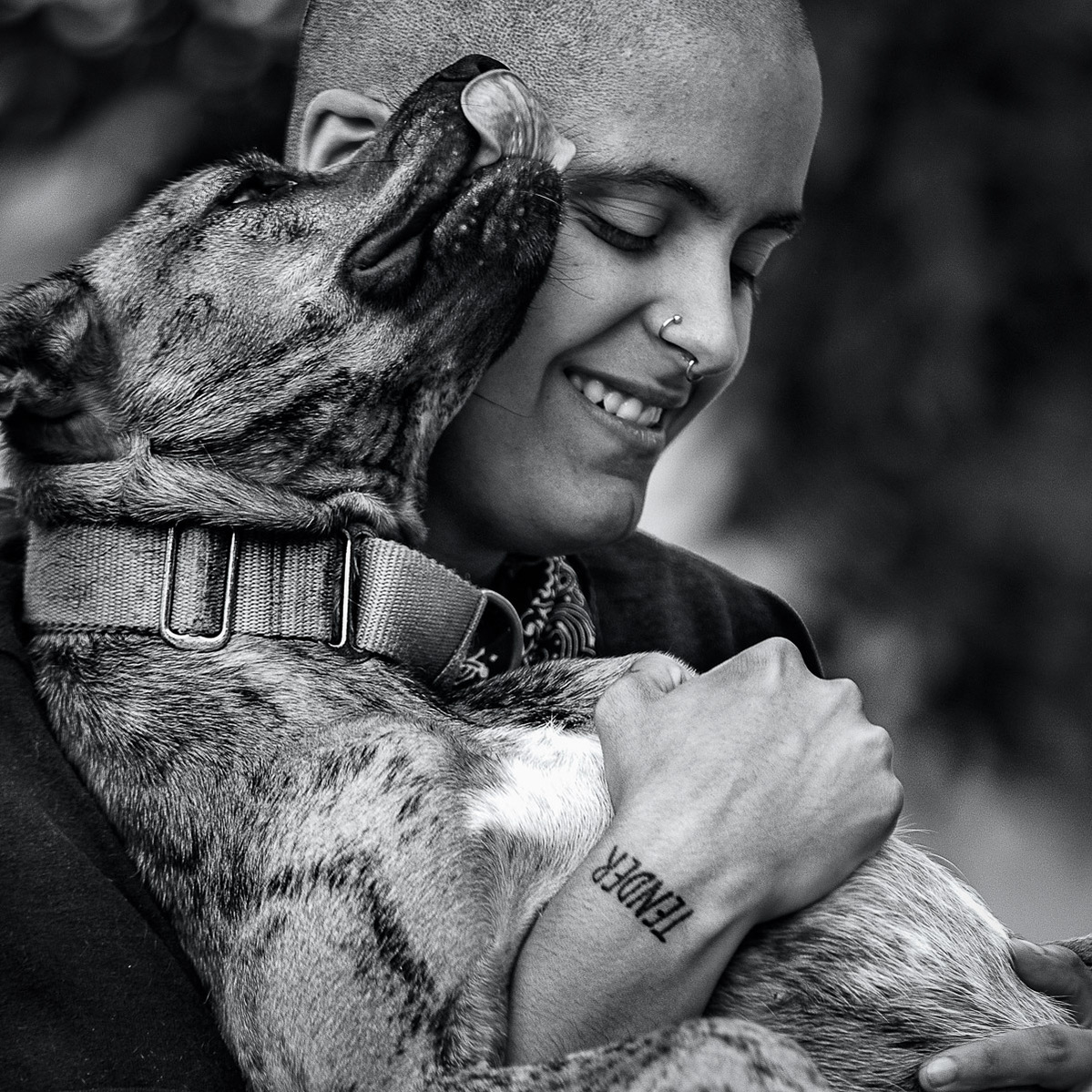 Last November the Project announced the launch of the Don't You Want Me Rescue Grant. The DYWM Rescue Grant will enable someone from the queer and trans community (one person in Toronto and one in the U.K) who is struggling with mental health issues, the opportunity to adopt a rescue dog and be given ongoing support.
It is expected that the first recipient of the DYWM Rescue Grant will receive their dog this March. As witnessed throughout the project it is anticipated that the arrival of the rescue dog will have a profoundly transformative impact not only on the recipient's mental health but on every aspect of their life.
Approximately half of the Project's participants have said that their rescue dog saved their life.
Parties involved in the Toronto DYWM Rescue Grant to date include:
Friends of Ruby - Mental Health Partner
Friends of Ruby is a Toronto registered charity dedicated to the progressive wellbeing of LGBTQI2S youth (aged 16-29) through mental health services, social services and housing. Friends of Ruby will help determine a suitable recipient for the DYWM Rescue Grant and will provide ongoing mental health support as the recipient welcomes the rescue dog into their life.
Save Our Scruff - Rescue Partner
Founded by one of our Project participants, SOS, a non-profit organization in Toronto is dedicated to rescuing dogs and finding them safe and suitable permanent homes through adoption, advocacy and education. SOS will work closely with Friends of Ruby to match a suitable rescue dog with the chosen recipient of the DYWM Rescue Grant, waive their adoption fee and provide ongoing support. If deemed beneficial, SOS will assist the grant recipient in working towards training their dog to be a therapy/service dog.
Nood Pet Food
NOOD recipes are packed with ethically sourced proteins, superfoods and a range of vitamins and minerals to provide a complete and balanced diet for your pet. NOOD believe every pet — big and small — deserves the proper nutrition to live a healthy, happy life. And every single pet owner deserves to know what goes in (and what stays out) of the pet food they buy. No junk, no nasty surprises, no pesky fine print. NOOD is working to close the gap on pet food inequality and to make affordable pet food accessible to all. Nood Pet Food is donating 3 years worth of food to the grant recipient.
Doggy Dates Toronto
Doggy Dates Toronto is a trans owned, award winning dog walking and photography business founded by Jack and Jet Jackson. Doggy Dates Toronto will be providing dog walking services and documenting the journey of the grant recipient and their rescue dog through photo journalism.
Balmy Beach Pet Hospital
Dr. Singh comes from a traditional "Sikh" family. The word Sikh means student. To this end, Dr. Singh has devoted her life to honing her skills as a veterinary practitioner, to continue to provide the best medicine and care to her patients. Her goals as a practitioner are to provide affordable and professional veterinary care, maintain the highest level of transparency, and practice in an environment that is safe for pets, pet owners and staff. We are in the process of finalizing the contribution from Balmy Beach Pet Hospital.
Dogtopia
Dogtopia of Bloor West Village in Toronto is your dog's home away from home. The brand new dog boarding facility, owned by Jen McCain, makes your dog's everyday like it's the most exciting day ever! Through dog daycare, boarding, training and spa services they are committed to showering your pup with all the love and affection they deserve when you can't be with them. Dogtopia Bloor West are donating grooming, dog training and job shadowing if desired.
Small Wonders Pet Store
Toronto's landmark original independent pet store. Small Wonders will be providing $20 worth of treats each month to the grant recipient's dog.
Still seeking - a dog bed, coat, leash, collar, toys, pet insurance, and training and behavioural services.
If you would like to help with a fiscal donation to subsidize the cost of important services like training, vet care and day care when needed, we are taking donations here.

We know times are hard for lots of people so your greatest gift would be to share this far and wide.